Become a Member
Benefits
Give back to the community during volunteer activities related to Ronald McDonald House Charities of Kansas City.
Networking opportunities with like-minded philanthropic and business leaders.
Leadership development through optional committee participation
Invitations to fun social activities at the house and in the community
Membership Requirements
Membership Fee – Regular Membership for one $120/yr or $10/month, Household Membership for two $180/yr  or $15/month
Attend Red Shoe Society events and help spread the word about the mission
Please click here to view the handbook and find out how you can get more involved.
Click here to learn more about our Corporate Sponsorship opportunities. .
For more information about membership, please contact Tara Adler at tadler@rmhckc.org.
Join the Red Shoe Society
RSS Spotlight – Member of the Month: 
Alex North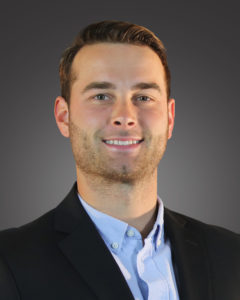 Members of Red Shoe Society join to serve others. Some join because the mission is close to their hearts, others because their friends introduced them to the group and some because of our fun events. From our happy hours to our house dinners, everything we do benefits Ronald McDonald House Charities of Kansas City. 
This month's Member Spotlight features Alex North. Enjoy getting to know a bit more about Alex!
Hometown: Topeka, KS
Years in KC: 2.5
How'd you get involved with Red Shoe? I first learned about the Red Shoe Society through volunteering at the Ronald McDonald house. The RSS was a natural fit as it's the perfect opportunity to connect with & give back to the KC community, both of which are vitally important to me.
Why do you think the Red Shoe mission is important? The Red Shoe Society's mission, in my opinion, can be boiled down to three words – Engage, Empower, and Inspire. Three words that provide direction to what we're doing today that will then take us where we want to be in the future. As upcoming KC area leaders, it's our responsibility to promote philanthropy in our community by engaging, empowering, and inspiring other young professionals to get involved in philanthropic endeavors.
What is/has been your favorite Red Shoe event? Chicken N Pickle! I loved getting to know the other members and I'm looking forward to the next event already.
What do you do in your spare time? I love to golf, play basketball, travel, and watch all college sports. Rock Chalk!
What else should we know about you? I'm extremely excited to join such an amazing group of people and I look forward to helping out in any capacity. If I haven't met you yet, I look forward to doing so in the very near future.