Become a Member
Benefits
Give back to the community during volunteer activities related to Ronald McDonald House Charities of Kansas City.
Networking opportunities with like-minded philanthropic and business leaders.
Leadership development through optional committee participation
Invitations to fun social activities at the house and in the community
Membership Requirements
Membership Fee – Regular Membership for one $120/yr or $10/month, Household Membership for two $180/yr  or $15/month
Attend Red Shoe Society events and help spread the word about the mission
Please click here to view the handbook and find out how you can get more involved. For more information about membership, please contact Tara Adler at tadler@rmhckc.org.
Join the Red Shoe Society
RSS Spotlight – Member of the Month: 
Corey Merriman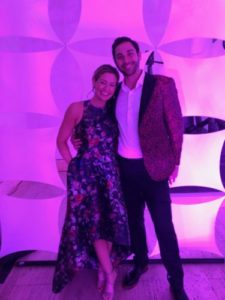 Members of Red Shoe Society join to serve others. Some join because the mission is close to their hearts, others because their friends introduced them to the group and some because of our fun events. From our happy hours to our house dinners, everything we do benefits Ronald McDonald House Charities. However, sometimes we're surprised by the benefits we receive in return.
This month's Member Spotlight features Corey Merriman. He joined for all the reasons above and unexpectedly, found love along the way. Read his fun story of meeting Red Shoe Society President, Blair, and Blair's slightly different interpretation of events. Enjoy!
Corey, originally from Wichita, has lived in KC for five of the last seven years, most recently for the last year and a half. Initially, he was introduced to RSS a few years ago through friends and former board members, Kate and Sarah. He has continued attending events since then.
"There have been quite a few great events that I have been lucky enough to attend," noted Corey. When asked which were his favorite: "This is a tough one… I'd have to say either Cookies & Beer or the bingo night at Hamburger Mary's."
All of Red Shoe's events support its mission, which Corey found important and close to his heart.
"There are few things one can do in life that are more impactful than helping others in their times of most need," said Corey. "My young cousin had brain cancer and spent months in the hospital receiving treatment and recovering. After seeing firsthand how difficult it can be for families to navigate all of the emotional, financial, and logistical struggles of illness, the significance of providing a place that allows families to remain together is immeasurable."
Little did Corey know, Red Shoe Society would also have an impact on his life. Last fall, he me Red Shoe Society President, Blair Gentile, and the two soon started dating.
"I actually met Blair before she acknowledges meeting me," Corey remembers. "We were introduced at a RSS event at the Blue Moose, which was apparently only memorable for one of us, and then again a few weeks later at Cookies & Beer. Unbeknownst to one another at the time given our brief conversation, we both had eyes for the other from the start. It wasn't until our friend Sarah's birthday party a few weeks later that we truly connected and hit it off immediately."
Blair remembers this slightly differently…
"It seems strange to think that Corey & I supposedly met at the Blue Moose Dining for Dollars event, because the minute he walked into Bier Station for Cookies & Beer he quite literally took my breath away," Blair explains. "I met our mutual friends – Sarah & Kate – through being a part of the RSS board together. We had served almost two years together after my return from New York before meeting/being introduced to Corey. Sarah holds an epic birthday party every year, which is where the universe connected Corey and I again post Cookies & Beer. I walked out that night knowing I had found the love of my life and someone I would be able to share the mission of RSS/RMHC-KC with on a regular basis."
Their memories of meeting may differ, but they both agree that Red Shoe Society made the connection happen.
"I don't believe that we ever would have met had it not been for the RSS, which just goes to show that participating in events for a good cause can change your life in ways that you never can imagine," said Corey. "Seeing Blair's passion for RSS and hearing all of the powerful stories about the help RSS provides families has driven me to participate and do more to give back."
Blair admits: "RSS was the best matchmaker in town for the two of us. I agree with Corey that I don't believe we would've have met had it not been for RSS. Red Shoe afforded us both the chance to cross paths (I guess more than once :)), changed our lives in the best way possible and allows us to support RSS as a foundational part of our relationship. We look forward to "date nights" with the many events RSS hosts and enjoy giving back to the RMHC-KC family together."
Corey is an avid Sporting KC, Chiefs, and Jayhawks fan, and slowly converting to becoming a larger Royals fan because of Blair (her family has been season ticket holders since 1991).
"One of our favorite things to do together is watching all the sports," notes Corey. "Also, as of this past weekend Game of Thrones will be taking up our Sunday evenings for the near future."
As the summer approaches, Corey hopes to find his way onto the golf course to make the most of the warm weather after the long winter. Participating in upcoming RSS events is also on his summer checklist.
"I hope through donating and participating in the RSS events to give back to the community that has given so much to me."