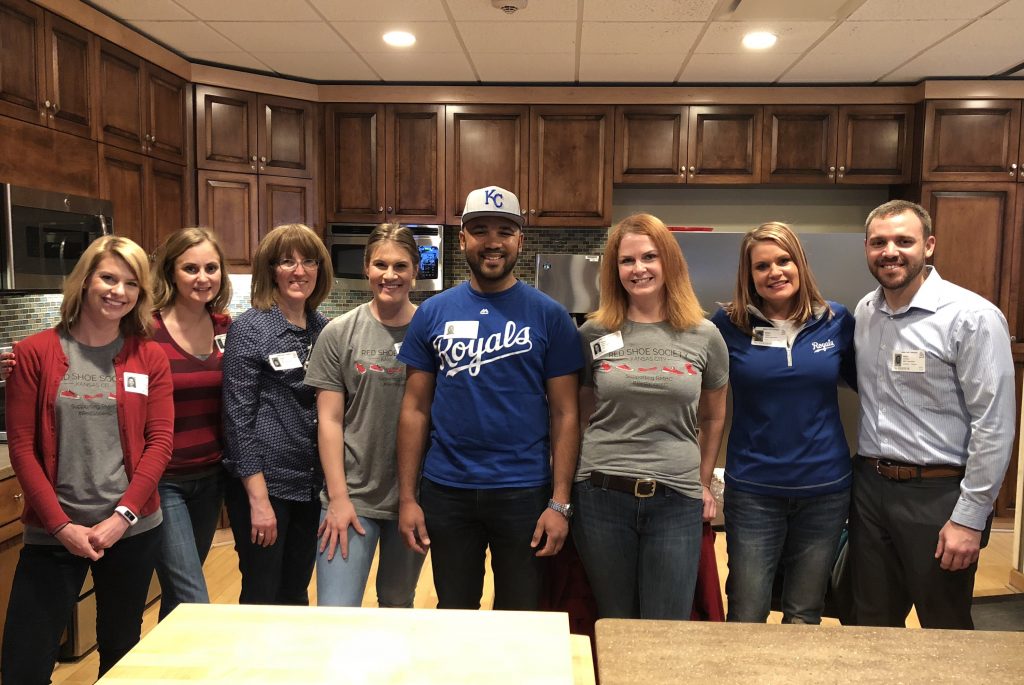 Become a Member
Benefits
Give back to the community during volunteer activities related to Ronald McDonald House Charities of Kansas City.
Networking opportunities with like-minded philanthropic and business leaders.
Leadership development through optional committee participation
Invitations to fun social activities at the house and in the community
Membership Requirements
Membership Fee – Regular Membership for one $120/yr or $10/month, Household Membership for two $180/yr  or $15/month
Attend Red Shoe Society events and help spread the word about the mission
Please click here to view the handbook and find out how you can get more involved.
Click here to learn more about our Corporate Sponsorship opportunities. .
For more information about membership, please contact Tara Adler at tadler@rmhckc.org.
Join the Red Shoe Society
RSS Spotlight – Member of the Month: 
Margot and Graham Nelson
Members of Red Shoe Society join to serve others. Some join because the mission is close to their hearts, others because their friends introduced them to the group and some because of our fun events. From our happy hours to our house dinners, everything we do benefits Ronald McDonald House Charities of Kansas City.
This month's Member Spotlight features Margot and Graham Nelson. Enjoy getting to know a bit more about the both of them.
Hometown: Graham – Pittsburgh, PA, Margot – Kansas City
Years in KC:  Margot – 32, Graham – 5 years this time (12 years total)
How'd you get involved with Red Shoe?  Heard about RS through our friend, Louie, after my sister and her husband spent time at the Ronald McDonald House last fall after our nephew, Benji, was born with complications.  Fortunately, he has made a great recovery from numerous surgeries, and is a happy, healthy almost 1 year old!
Why do you think the Red Shoe mission is important?  This is a wonderful organization that more people in our community need to learn about.  We've served dinner at RMH with friends before, and collect tabs to donate in support of RMCH, but there is so much more we can all do to support a GREAT cause!
What is/has been your favorite Red Shoe event?  Well, we've only been to one so far, but had a great time at the Brick House in June.  We are looking forward to getting more involved and meeting other members!
What do you do in your spare time?  Travel, golf, walk our dogs, watch and cheer on the Chiefs & Royals, go to the lake or the ocean whenever we can
What else should we know about you?  We are both twins!
To learn more about our events and how you can get involve and all the others please visit our event page. 2019 Red Shoe Society – Kansas City Events