Become a Member
Benefits
Give back to the community during volunteer activities related to Ronald McDonald House Charities of Kansas City.
Networking opportunities with like-minded philanthropic and business leaders.
Leadership development through optional committee participation
Invitations to fun social activities at the house and in the community
Membership Requirements
Membership Fee – Regular Membership for one $120/yr or $10/month, Household Membership for two $180/yr  or $15/month
Attend Red Shoe Society events and help spread the word about the mission
Please click here to view the handbook and find out how you can get more involved. For more information about membership, please contact Tara Adler at tadler@rmhckc.org.
Join the Red Shoe Society
RSS Spotlight – Members of the Month: 
Samantha Kopek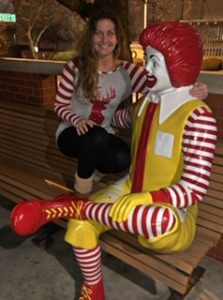 Hometown: Kansas City, Missouri – moved here when I was three!  Went across the state line to college at KU.
Years in KC: I've been here almost 47 years!
How'd you get involved with Red Shoe? In 2013 I helped the Sprint Campus with Red Friday and they invited me as a guest to the Red Shoe Shindig.  That was my first exposure to RMHC-KC and I was hooked.  I started volunteering at the houses a few times a year.  Then in 2016 my friend Sascha and I committed to providing at least one dinner per month AND I joined Team RMHC for the Chicago Marathon.
Why do you think the Red Shoe mission is important? Raising awareness of Ronald McDonald House is so beneficial to our community.  Many people want to give their time and resources but get lost or overwhelmed trying to think of what he or she, one person, can do.  RMHC has a place and need for EVERYONE: singles, families, teams or groups giving their  time, donation items, Pop Tabs, or cold hard cash!  Awareness leads to commitment.  That commitment leads to growth for our organization, which in turn leads to Keeping MORE Families Close.
What is/has been your favorite Red Shoe event? Red Shoe Shindig is such a fabulous event!  It brings people together to learn stories from the families who benefit from RMHC.
What do you do in your spare time? I am a fitness instructor part-time, so I enjoy motivating people and helping them feel healthy.  I also love doing anything outside – running, swimming, hiking, or lounging.  I enjoy traveling, everywhere, and for the THIRD year in a row I am raising money for Team RMHC for the Chicago Marathon in October!
What else should we know about you? Spending the fourth Wednesday night of the month serving dinner at the Bernstein House has become sacred to me. There is almost nothing that comes before my commitment to these families. I have met many beautiful and grateful people – families, children, parents, friends and relatives.  Providing something to them so that they can focus on why they are here is truly a blessing back to me.