29 May

Meet Our Families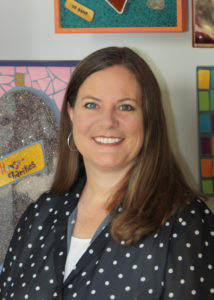 What Matters Most: Our Families.
By Tami Greenberg
Published May 29, 2019
When it comes to my role here at RMHC-KC, most days, there's a lot on my mind. Like making sure we're supporting our amazing staff and volunteers…that we're raising enough money…that we have all the "stuff" we need to operate. Hands down, though, the most important thing I'm always thinking about—always—is what matters most: the families we serve.
I am astounded and inspired daily by the gratitude, grace, good humor, vulnerability, and courage of the families we serve. Moms and dads, grandmas and grandpas, aunts and uncles, brothers and sisters—they're all here not because they want to be, but because a child they love needs serious medical attention. That we are able to keep them close, both to each other and to the medical care they need, is an honor and privilege that none of us here at RMHC-KC take lightly.
So I'd like to pass along some of that inspiration and introduce you to three families who I suspect will touch your heart, as they have touched mine.
Nash's family
Little Nash was born November 20, 2018 with what's known as hypoplastic left heart syndrome, a heart defect that typically brings with it a series of surgeries. His grandmother, Cindy, has accompanied little Nash for several of his visits to Children's Mercy Hospital to lend a helping hand to her daughter, Nash's mama, Keva.
Cindy heard about RMHC-KC from other family members and has been able to use our Family Room to grab a hot meal, shower, or just a quiet place to wait while Nash is in surgery. "The volunteers and house managers have been so sweet," said Cindy. "My daughter doesn't have to worry about me, knowing I have somewhere to eat lunch and that I'm being taken care of while I'm here with Nash. It's been a blessing to all of us."
Now six months old, Cindy says Nash is a social little flirt and that all the nurses are in love with him—his long eyelashes have even earned him the nickname "Nash the Lash." "He smiles all the time," she says. "As if he knows that every day is a blessing."
Amanda's family
Amanda, 16, was rushed to the hospital early one morning with a medical emergency. Her mom, Kristen, accompanied her. "I realized later that same day, with everything that happened so fast, I left the house still in my pajamas," said Kristen.
As it got closer to evening, and more of Amanda's family had arrived at the hospital, they learned from the nurses that not only was there dinner available for them at RMHC-KC, there was a room there for the family to use. "We wanted to be with Amanda all the time," said Kristen, "so we took shifts. It was so nice to have somewhere to rest, even just a place to brush our teeth and take a shower. Everything we needed was right there."
Kristen has been able to find a family of supporters within RMHC-KC as well. "The staff has been amazing," she said. "I have never once felt alone, even when the rest of my family had to go back home. The staff not only remembers details but asks how you're doing and what they can help you with. There have been several times I've fallen apart and they've been there during those low moments. There was even a family on vacation that came in and served us dinner. It's just meant so much to me."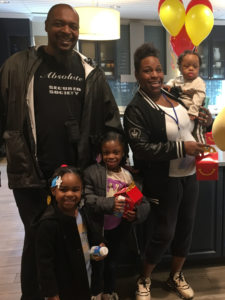 Geno's family
Little Geno was born in Wichita, the 12th child in a big blended family. "We didn't know when Geno was born that he would have Down syndrome and a severe heart condition, with three holes in his heart," said his mom, Donnat. "Our first visit to Kansas City for treatment was when he was three months old and had pneumonia."
During that first visit, the family was asked if they wanted to take a break in the RMHC-KC Family Room inside Children's Mercy. Donnat was hesitant at first, not wanting to leave Geno's side. "But then I tried it, and ever since then, we go there first!" she said. "It gives us the opportunity to be a whole family. We can come and stay and it feels like home."
Donnat also appreciates all the people she's been able to meet at RMHC-KC. "It's amazing. You can be there for others and you get to build a rapport with people from all walks of life, all going through similar situations," She said. "We can all relate."
As for Geno, he's now 22 months old and changing every day. Donnat reports that he loves to babble, feed himself, and listen to music. "He's climbing, moving—and if he can find something to get into, he's happy!"
What matters most: the families we serve.
For Nash, and Amanda, and Geno, and for the thousands of other families we serve each year, thank you so much for your support of Ronald McDonald House Charities of Kansas City.   
Warmly yours,  
Tami