Behind the Scenes at RMHC-KC with CEO Tami Greenberg
By Tami Greenberg
July marked my third anniversary as CEO at Ronald McDonald House Charities of Kansas City, and I feel profoundly lucky and honored to serve in this role for such an extraordinary charity.
For a while now, our amazing director of marketing Emily has been encouraging me to write periodic blog posts from my perspective as CEO of RMHC-Kansas City. I'm not one to "toot my own horn," but because I do want to share with you some of the behind-the-scenes magic at RMHC-KC…I agreed. So here we go.
I received a Master's in Social Work from the University of Kansas in 1998 and have spent my entire career in the nonprofit sector, from roles helping abused/neglected children and people living with HIV/AIDS to serving in organizations like the National MS Society and United Way of Greater Kansas City.
I've felt called to serve since an early age—something I attribute to the globally aware way I was raised. My parents both had starkly poor childhoods, and they made sure that my brother and I took nothing for granted, being very intentional to expose us to the hardships and realities of others' lives.
Even though I grew up in the small town of Dodge City, Kansas, it was important to my parents that I knew how big the world was, and that it most definitely didn't revolve around me; I learned what it meant to have privilege. From an early age, it stirred something in me, and I knew I wanted to dedicate my life to helping others.
I am so grateful to have a family of my own now — my wife Mary Chris Blickhan (also a social worker) and I have been together for 23 years. We are the proud moms of two active boys: Ben, 17, and Alex, 15. (In my head, they're still boys…although in pictures they surprise me by looking like grown men.)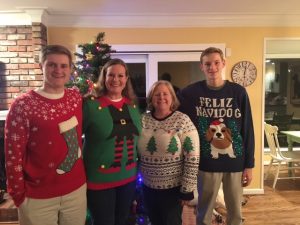 My family in our Christmas best: Ben (17), me, Mary Chris and Alex (15).
On one hand, we're a typical family — we go to movies, we love a good staycation, and we dote on our two crazy dogs, Dodger and Dash. On the other hand, we know we're extremely fortunate that we're all healthy. Mary Chris and I know how lucky we are that our primary parenting challenges have revolved around things like technology—"Put your phone away!/Get off the Xbox!" etc. etc. — and not serious ones like chemotherapy, intensive care, or organ transplants.
Not a day goes by when I don't feel deep gratitude for the health of my kids. It's what drives me to put everything I have into my job every day, to support the 87 families staying with us at RMHC-KC every night.
And as I continue to learn and serve in my role as CEO, I look forward to sharing more with you about what goes on behind the scenes here at RMHC-KC (spoiler alert: a LOT). I hope you'll follow along.
Until then, thanks for taking the time to read this, and thank you so much for supporting the children and families at Ronald McDonald House Charities of Kansas City.
Tami Greenberg