03 Jun

My Privilege, Responsibility, and Commitment

Published June 3, 2020

Friends, in 2018 I started this blog to give you a behind-the-scenes look at RMHC-KC. Hopefully, these periodic notes give you a better sense of who we are as a charity, and who I am as its leader.

In these blogs, I've told you stories of RMHC-KC families, I've talked about how we handle hospitality around the holidays, and I've shared musings on everything from the pandemic to graduate school.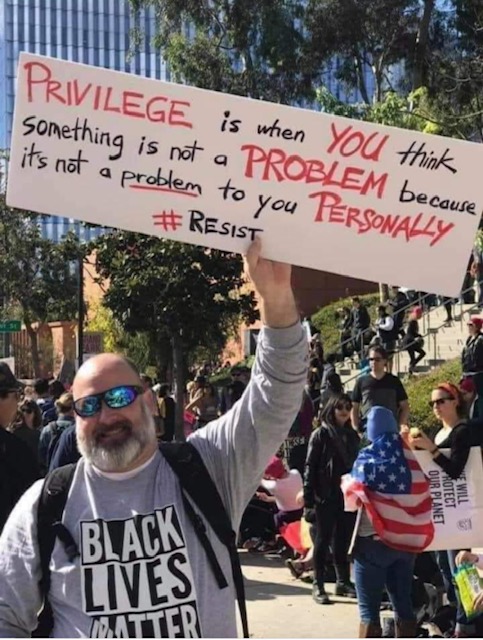 The man in this picture is Mark Anderson. He's been a dear friend for 25 years and is the godfather of my younger son. (He also, coincidentally, worked at RMHC-KC about a decade ago, before my arrival on the team. Small world!) Mark has been rallying, protesting, speaking up—and listening—about inequality and injustice for many years.
Mark has used his power, his voice, his influence, and yes, his privilege, to work towards making the world a more equitable place for everyone. Unlike him, I am guilty of standing up for racial justice only some of the time—not often enough, or strongly enough. I am guilty of speaking when I should be listening, and of thinking I know and understand more than I do. I don't know what it's like to carry the pain, anger, exhaustion, and fear that are part of daily life for so many. My privilege has protected me, and it has enabled me to be only periodically heartbroken and outraged about injustice and racism—in accordance with the news cycle. I have fallen short of the responsibility that my privilege has given me.
The experiences, courage, and transparency of others have inspired me. I am committed to learning how to become anti-racist, and how to be a better ally to people and communities of color. And I vow to use my privilege and power to work towards desperately-needed solutions for our friends, neighbors, and community.
You may be wondering how my thoughts on privilege relate to our work at Ronald McDonald House Charities of Kansas City. First, I want you to know where I stand, personally and professionally. Additionally, please know that our charity is deeply committed to diversity, equity and inclusion, both within our programs and in our community. We are an organization that listens to and honors the painful real-life experiences of the families with sick children that we serve… For many of our families, caring for a seriously ill child is not the only challenge they face. We conscientiously work to create an environment that is open, safe, and welcoming for ALL families in our care—and for our volunteers, staff, supporters, and friends.
Finally, as my friend Mark's sign says: "Privilege is when you think something is not a problem because it's not a problem to you personally". For all of us who are privileged enough to have healthy children, and a society that protects and supports us, let us continue working to make the world a better place for all of us.