21 Apr

Tami's Blog: Helping Our Families "Breathe"

Helping Our Families "Breathe"

I struggle with self-care. My job and my mission in life has always been to put everything — and everyone — else first. 

The last two years (three, if I'm being honest) have been demanding on the personal front, with my first son and then second son graduating from high school, choosing colleges, and beginning to "launch." 

The last two years have also been demanding at the charity—as we have worked together to serve families with sick children during and despite a pandemic. While it's been important to me to take care of my own family and the families at RMHC-KC, I've also been realizing that I need to take care of myself.  And… I'm trying. I've been learning how to meditate, how to pause and catch my breath, how to schedule and protect my time. I know that taking care of myself makes me a better mom and wife. It also makes me better at my job. 

When I tell people what I do here at RMHC-KC, they always ask, how do you work there and not cry? We absolutely do cry—we have to be in touch with the entire human experience. As I tell them, if you work here and you don't cry sometimes,  you're in the wrong place. 

We can't stay in that state of grief all the time, though. Not for our health, or for the health of the charity. Part of self-care means learning how to better manage the emotional part of the job. I hold our families in my heart, and I also owe it to them to keep going so that I can continue our mission.

Working on self-care is not selfish—you have to put your own oxygen mask on before you can help others, right? But for our families at RMHC-KC—and the parents we serve, especially, whose days are often filled with attending to the needs of others—it can be so hard to find the time to do something for themselves.

That's why I'm so excited to announce a very special new place here at RMHC-KC aimed at helping our families take better care of themselves: our brand-new salon, Breathe. 

The idea started a few years ago when the folks from The Magic Yarn Project reached out to us to donate wigs for kids battling cancer. On top of that, celebrity wig designer Trenton Lee also offered to make several wigs a year for our kiddos — we couldn't believe our good fortune! (In fact, we just introduced him to his first official recipient recently, a teenage girl named Rylee!) We were so thrilled, but soon realized — where will we display them? How can we deliver them to kids with hair loss in a magical moment? It had to be somewhere really special.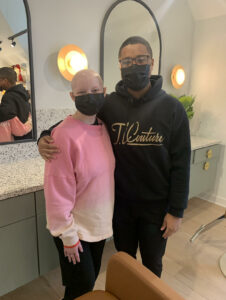 And that was our lightbulb moment, when it came to us: we should have a salon. Not only as a place for kids experiencing hair loss, but for parents, too. Where they could get haircuts. Pedicures. Even massages. A place where they could go to relax. Indulge in a little self-care. A place where they could … Breathe. And that was it — we even had a name! 
Breathe officially opens its doors this month, and we are so thrilled to have a number of volunteers lined up to provide services. It's a gorgeous space, too, thoughtfully designed by Lisa Schmitz. 
As I said above, we sometimes cry at RMHC-KC, with and for the families we serve. We also celebrate. Laugh. Connect. Hope. And always, we care—for ourselves and each other. May you take this moment in time, as you read this, to create a moment and space to care for yourself, as well.