22 Sep

Tami's Blog: Red Friday

Red Friday: The Play-by-Play 

All of us at RMHC-KC are still catching our breath from one of our biggest, most exciting days of the year: Red Friday! And I'm thrilled to say that not only did this year's big day, September 9, go off without a hitch, we raised more than last year—$940,000, including the 50/50 raffle! (WOW!!!)

It might look like just one day of fundraising; for us, it really means months and months of preparation. We do everything from ordering Charlie Hustle shirts and organizing hundreds of volunteer positions to setting up PR opportunities and planning fun activities for our RMHC-KC families. Then, things really kick into gear the week of Red Friday. And the big day itself? Whew! It's the best kind of mayhem.

For us, it feels like Red Friday really starts on the Tuesday of that week, when we always host a fun event for our guest families and their kids.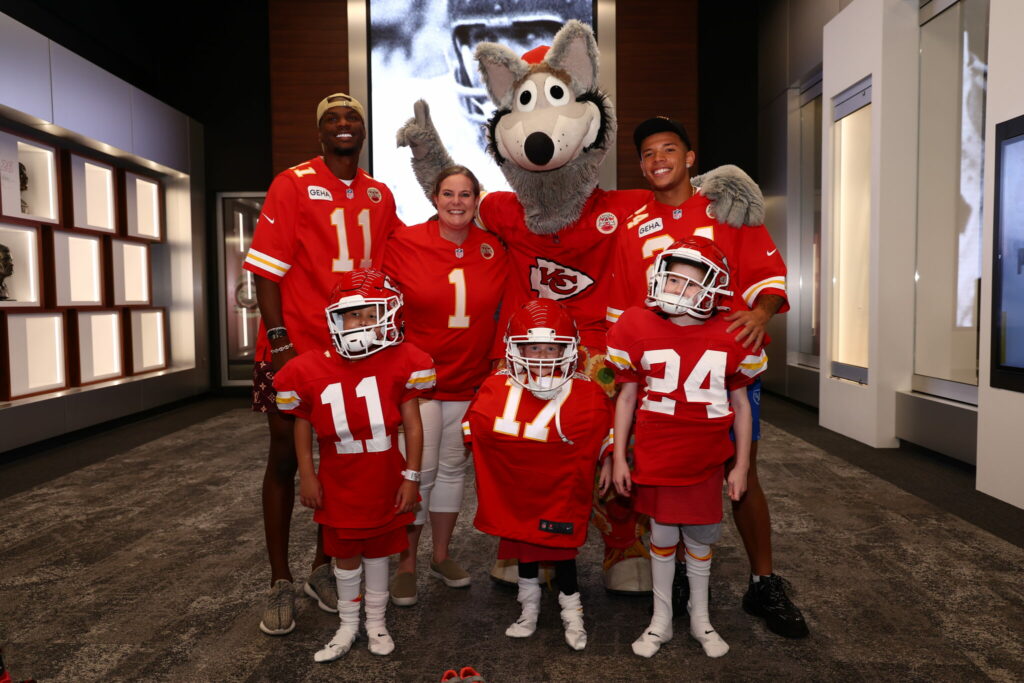 This year, the event was held at Arrowhead Stadium and included two star Chiefs wide receivers to help us celebrate: Skyy Moore and Marquez Valdes-Scantling. (A third who signed up couldn't make it due to scheduling conflicts, so I stepped in on his behalf. Hopefully, they won't ask me to suit up for a game now!) KC Wolf was there too, to help ramp things up even more.
Our families had so much fun—one kiddo,  Jaxson, was there despite having had a chemo port put in that morning. He was very emphatic that he would not miss out on it!
Then, later that week, it was time for the big day. And that's when it really gets action-packed. To give you an idea, here's a play-by-play of my Red Friday:
The night before 
I shower and lay my clothes out ahead of time, just like I'm going to the first day of high school. Only way, way better. 
3:15 AM
At the—what comes before crack?—something of dawn, my alarm goes off, and I claw my way from deep sleep into reality. I'd spent most of the night being too psyched to calm down. That's okay, though, this is our big day—the adrenaline and passion I already have for our mission are in overdrive on Red Friday!
4:00 AM
I arrive at the home of our outstanding Director of Marketing (and my unofficial partner-in-crime for the day), Emily Gretzinger. We head to the McDonald's where we'll both be officially stationed for the day, located in Independence. Emily has our Director Of Goodness (our therapy D.O.G., Benson) with her, who will be on hand for interviews and has promised not to beg too much for burgers.
4:30 AM
We arrive at our location to help set up. I take some time to chat with all the workers and volunteers, thanking them for their participation and enthusiasm. They all had an early wake-up call, too! This will definitely be an action-packed day for everyone, and it takes all of us to make the magic happen.
4:45 AM
The media is on site, including all of the camera operators and various support positions that go into live feeds. I get a chance to talk to them and share our appreciation for what they do—and I love how many folks I hear who are passionate about the mission of RMHC-KC, too.
Around this time, I also slammed the first of what I'd estimate were 27 Diet Cokes that kept me going throughout the day. Love those McDonald's fountain drinks!
5:05–6:30 AM
Emily keeps me on schedule as I do a flurry of live TV interviews, set up back-to-back and handled seamlessly by everyone who makes that happen, like reporters Matt Stewart, Charlie Keegan, and Martin Augustine.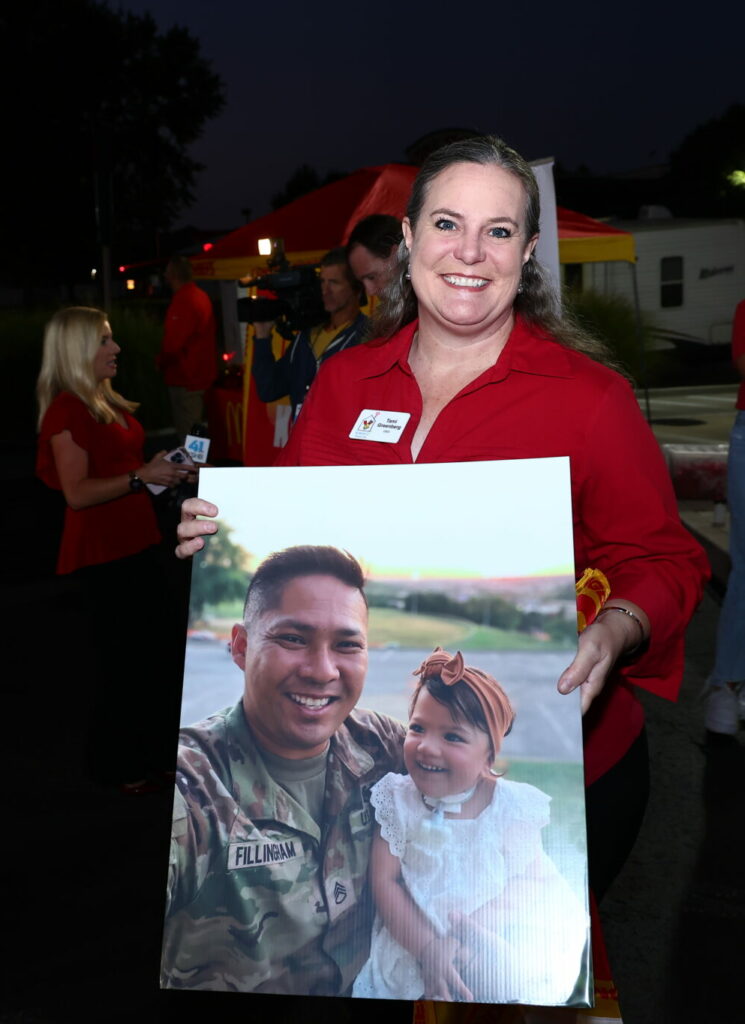 In each interview, I make sure to talk about families with sick kids staying at RMHC-KC. Every year I have a picture of one of our kiddos to keep the focus on them—this year's photo featured sweet Havi and her dad Michael. Highlighting their family helps us honor all of the 3,500 families who have checked in at our Houses so far this year. The reporters are great and so supportive—they understand and are happy to help us spread the message of what Red Friday does to help the families and sick children we serve.
6:30 AM
Clark Hunt shows up at our location, and you can just sense a charge in the air: everyone is excited to see the Chairman and CEO of our beloved Kansas City Chiefs!
I love listening in on Clark's media interviews. Just like he does every year, he talks about how much the Chiefs love participating in this event because of the work of Ronald McDonald House Charities. He also speaks highly of the RMHC-KC campus tour he took recently, along with his wife Tavia and daughter Gracie. I can tell that for them, this isn't just about the Chiefs, it's about family.
7:00 AM
The pomp and circumstance of Red Friday is in full effect: the Rumble drumline is on hand to help pump up the crowd, there are flag wavers doing their thing as the sun rises, and KC Wolf is there, photobombing as many media interviews as he can! Wolfie has all the energy and all the moves.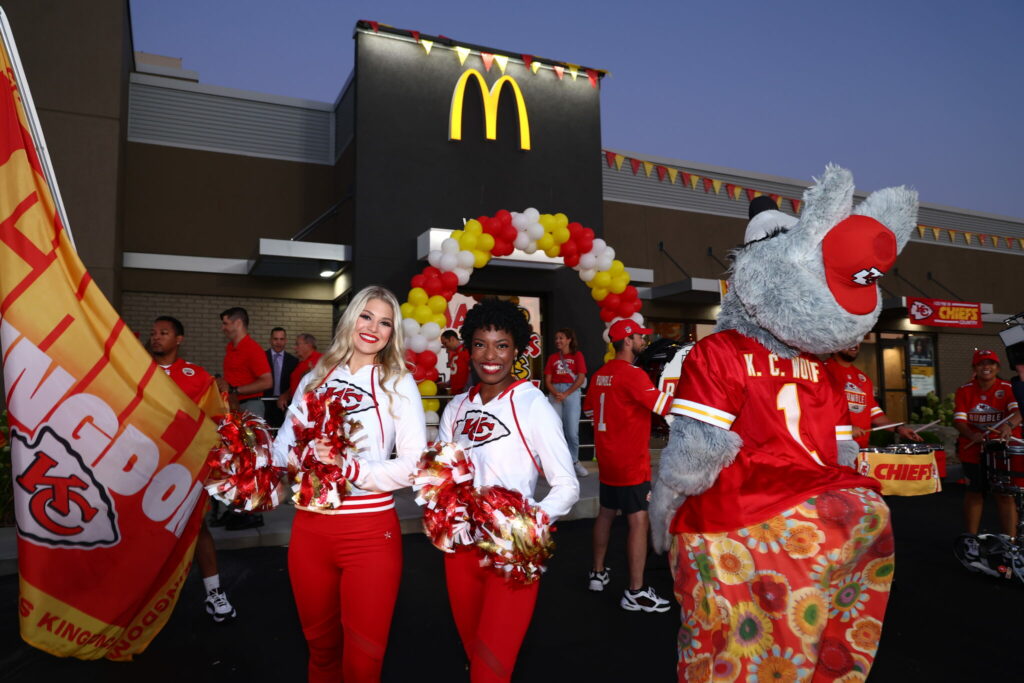 7:15 AM
I hear someone say, "Is that Eric Stonestreet?" And, sure enough, one of our beloved hometown actors has come to help—and we had no idea that he'd be there! (Not to mention, it was his birthday! How cool that he'd spend it with us.) He was so gracious, taking selfies with everyone and going from car to car selling flags. What a fun surprise! 
7:30 AM
I get a chance to walk around the parking lot for a bit, selling flags and saying hi to the good folks who came out so early to buy them! I chat with a sweet visitor named Vernon, who had come out just to help. The good vibes were contagious, thanks to people like Vernon and the rest of the folks milling around.
7:45 AM
I check my phone to see how Red Friday is going elsewhere, and help coordinate any hiccups. We have staff ready to troubleshoot with things like the flag supply running low, but with 160 McDonald's locations participating,  I'm keeping an eye out as well.
8:00 AM
I realize that I haven't eaten anything, even though I've been at a McDonald's for four hours already! I grab a quick and delicious breakfast burrito, washed down with Diet Coke #23—or was it #24?—and say hi to Chiefs Hall of Famer Bobby Bell, who came right at the beginning and spent the whole morning with us. Bobby loves selling flags, and we love him for it! (Fun fact: the location we were at is owned and operated by another Chiefs Hall of Famer, Carlos Carson!)
8:00-10:00 AM
Benson gets his time in the spotlight and does a few interviews. Somehow, he's able to focus on the questions even with the smell of hash browns surrounding him. Such a good boy!
I give my last interview at 9:30 AM, and shortly after, the media crews on hand begin to head out, and the event starts to wind down. We thank them all for helping us tell the story of RMHC-KC.
10:00 AM–Noon
Emily and I pack up to go visit a Red Friday celebration being held at one of our generous corporate sponsors, National Beef. They hand out flags to their employees as I make a few remarks to the crowd about the story of RMHC-KC and the families we serve. 
After that, they present us with a sizable check that will help upgrade our guest rooms, helping our families be comfortable during their stay with us. We are so grateful not only for all the individuals who help support us during Red Friday, but the corporations like National Beef who make such an incredible difference for us, too.
Noon
Officially done with our remote Red Friday responsibilities, Emily and I (and the rest of the team that's been in various locations across the metro) catch our breath for a minute, then we head to our offices to start our day jobs! I catch up on emails and all the various good reports coming my way from the morning's events. 
The Chiefs will be the ones to officially announce how much Red Friday brought in for the charity, and we're all excited to hear the final number!
Early That Evening (VERY Early That Evening)
Despite my best attempts to stay awake, my eyes start to close sometime around 8 pm (okay let's be honest, it was closer to 7!). I say goodnight to my family and head to bed. I'm worn out, but in the best possible way: I couldn't be happier knowing how much our city came together this one day to support sick kids and families at RMHC-KC. Thankfully, the 27 Diet Cokes are out of my system by now and I fall fast asleep!